---
Engineering PhD Student Angling for Success!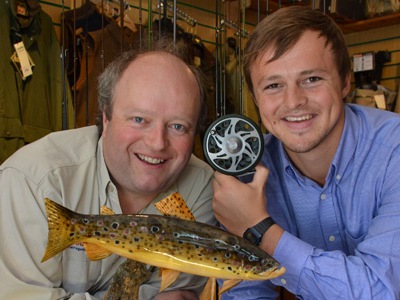 Lancaster University Engineering student Shaun Benzon has turned his hobby into a business with the launch of the only fishing reel designed and made in Britain.
The Reel Britannia fly reel took a year to design and is registered as unique. It will be sold from July at selected retail outlets across the UK, with plans to expand into the US next year.
The Fly Reel Company Limited unites the engineering skills of PhD student and keen fisherman Shaun, with the business acumen of Tim Brown, who owns a fishing tackle shop.
Before attending Lancaster University, Shaun worked part-time in Tim's shop The Brown Trout in Harrogate and the two became friends. It was during Shaun's visit home in 2011 that the two discussed the lack of a British manufactured fly reel - and the idea was born.
Shaun said: "We saw a gap in the market for British made reels because everyone we spoke to in the shop said they would love to be able to buy British, but instead the reels were being manufactured in China.
"We spent a year developing this and we tried about two dozen different materials and different designs."
They asked experienced anglers what the perfect reel would be and they carefully calibrated every aspect of the reel so it would fit the needs of the consumer.
Shaun returned to Lancaster University, where he was helped by Professor Malcolm Joyce and Peter Jones, a skilled machinist and technician from the Engineering Department.
"Peter was also a keen fisherman which helped and he was brilliant in helping us create test rigs which led to the prototype. It was great to be able to use the university facilities because otherwise I don't know how we could have done it."
The prototype was manufactured by Claro Precision Engineering in Knaresborough and every part of it is made in Britain, including the reel pouch handstitched by Rose Haynes of Harrogate who is the widow of an RAF fighter pilot from World War Two.
Shaun said: "The feedback has been fantastic and we have given these reels to anglers in Florida and Scotland who are very pleased. It's great to be able to bring back British manufacturing to the fly reel."
Visit The Fly Reel Company's website for further information.
Wed 19 June 2013
---