---
Welcome to our new maths and statistics staff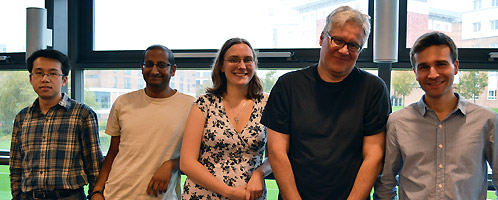 Lancaster's department of Mathematics and Statistics continues to grow, with the arrival of seven new staff and the promotion of two more.
Our new and promoted staff are:
Professor Gabor Elek, Professor of Pure Mathematics, previously at the Ecole Polytechnique Fédérale de Lausanne. Gabor is a specialist in geometric group theory and combinatorics, bridging the Algebra and Geometry and the Analysis and Probability research groups.
Dr Robin Hillier, Lecturer in Pure Mathematics, previously a postdoctoral researcher at Cardiff University. His research is in operator algebras, including algebraic quantum field theory, its connections to noncommutative geometry, K-theory and quantum probability, and some aspects of completely positive semigroups of maps on von Neumann algebras and quantum information theory.
Dr Rebecca Killick, Lecturer in Statistics, previously Senior Research Associate in the department. Rebecca's research spans several areas of nonstationary time series with a focus on changepoints and wavelet methods. She is specifically interested in applying developing methods to address problems that arise from energy applications.
Dr Matthew Nunes, Lecturer in Statistics, also previously a Senior Research Associate in the department.
Dr Vasileios Giagos, fixed-term Lecturer in Statistics and formerly a PhD student in the department.
Dr Miguel Gonzalez Belmonte, KTP Associate, working with Dr Peter Neal.
Wentao Li, Senior Research Associate, formerly a PhD student at Rutgers University, USA. His research interests include Monte Carlo methods, state-space models and computational methods in Bayesian Analysis.
Dr Nham Ngo, Senior Research Associate, previously of the University of Georgia, USA. He is working with Dr Paul Levy on an EPSRC-funded project studying algebraic groups.
Tue 22 October 2013
---