---
New NMR equipment and expertise for Chemistry at Lancaster
Story supplied by LU Press Office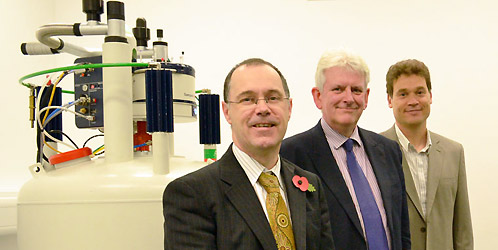 The opening of a new Nuclear Magnetic Resonance (NMR) Laboratory is the latest boost to the return of chemistry to Lancaster University.
The new NMR lab has facilities for both teaching and research, and the department's first cohort of undergraduate students, who started in October this year, have already had the opportunity to use the new equipment.
Further new facilities planned for Chemistry at Lancaster will include a second NMR Laboratory housing a £1 million dedicated solid-state NMR instrument, bringing total investment in the new department to more than £26 million.
Lancaster's investment in NMR is complemented by the appointment of Professor David Middleton, previously of the Institute of Integrative Biology at the University of Liverpool. Professor Middleton's expertise lies in the application of solid-state NMR techniques to biological systems, for example, studying the intricate details of protein structures.
Vice-Chancellor of Lancaster University Professor Mark E Smith, also an expert in solid-state NMR, said he was delighted that the ability to conduct NMR experiments had returned to Lancaster.
"The importance of NMR to both the Chemistry Department and the Faculty of Science and Technology here at Lancaster University cannot be overstated," said Professor Smith. "NMR is an invaluable tool for the characterisation of molecules which is so important in chemical research and teaching."
Professor of Analytical Chemistry and Founding Head of the Department of Chemistry Peter Fielden stresses that the new NMR facilities are part of wider plans for the development of chemistry at Lancaster.
"Lancaster has understood the significance of chemistry to the University, the community and industry, particularly since the North West of England has one of the largest concentrations of chemistry-related industry in the UK," he explained.
Thu 14 November 2013
---