---
Springer Prize for Lancaster physics student's PhD thesis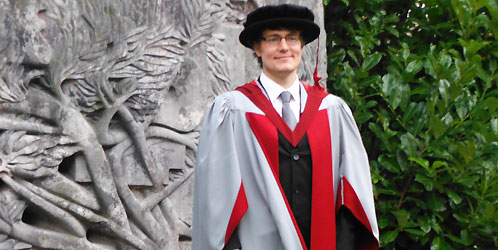 Springer Publishing House has selected PhD thesis by Dr John Wallbank for a publication as a book, and awarded him a cash prize.
His Thesis ?Electronic Properties of Graphene Heterostructures with Hexagonal Crystals? will appear as a volume in the Springer Theses series, which recognizes outstanding PhD research produced by today?s younger generation of scientists.
Wallbank completed his PhD course in Manchester-Lancaster CDT NOWNANO under the supervision of Professor Vladimir Falko. After defending his Thesis in 2013, John joined the Lancaster team of the European Graphene Flagship, where he continues his modelling work on two-dimensional atomic materials and their heterostructures.
Tue 04 February 2014
---