---
Over 110 delegates attended Quantum Technology Centre launch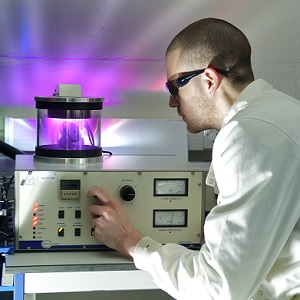 Representatives from EDF Energy, BAE Systems, Nokia, NEC Corporation, Alfa Aesar, Avion Oy, e2v and IQE joined guests from UK academic institutions, government, and research councils to celebrate the launch of the first phase of the Lancaster Quantum Technology Centre (QTC) on Wednesday 28th May.
The centre is a highly-significant development for Lancashire and the North West as the Government pushes regions to identify smart technologies that can give them a competitive advantage and drive economic growth.
Key note speakers at the launch, included Professor Mark E. Smith, Vice-Chancellor of Lancaster University; Professor David Delpy, Chair of UK National Quantum Technologies Programme Strategic Advisory Board; Dr Lesley Thompson, Director, Sciences and Engineering at the EPSRC; Hermann Hauser CBE, Amadeus Capital Partners; Professors Tony Krier and Yuri Pashkin, Directors of the Lancaster Quantum Technology Centre.
This was followed by a conference, exhibition and tour of facilities on Thursday 29th May. Talks focussed on superconducting quantum circuits, quantum technologies at ultra-low temperatures, semiconductor nanostructures and quantum devices, quantum information, quantum nano-mechanics, and quantum technologies with 2D materials.
The Quantum Technology Centre builds on Lancaster University's status as home to the UK's top-ranked physics department for research quality and will exploit the behaviour of matter at atomic/sub-atomic levels to create new products for computing, communications, measuring and sensing, medical diagnostics and a range of other technologically-disruptive applications with the potential to make many existing technologies obsolete.
Professor Yuri Pashkin, recruited by Lancaster University from leading Japanese IT corporation NEC to be a director of the QTC, said: "Quantum technologies are an exciting field of physics that has the potential to offer huge advances in technologies that cut across many fields including energy, medical science, financial security and computing.
"Lancaster University has recognised the great potential of quantum technologies and has invested significantly in facilities and talent to create the Quantum Technology Centre.
"We believe the centre has the potential to be a very important strategic development for the region's economic future through the commercial exploitation of our research."
Dr Mark Rushforth, Head of Business Partnerships & Enterprise, Physical Sciences concluded, "It was fantastic to see so many new businesses at the launch and we look forward to working with them."
The launch featured widely in the press, coverage included nanoechweb.org, Physics World, BBC Radio Lancashire, NCUB, Nanotechnology Now, Lancaster Guardian, and the Lancashire Evening Post.
See podcast on nanotechweb.org
Thu 05 June 2014
---