---
Morecambe High School pupils visit CERN as guests of Lancaster University's Physics Department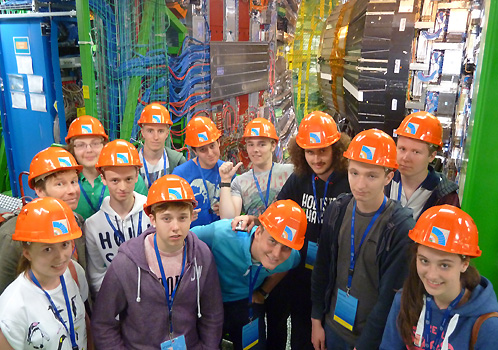 A group of A-level students from Morecambe High School have written a blog about their visit to CERN - the latest in a series of events involving Science and Technology at Lancaster University.
Pupils from the school had previously attended talks by Lancaster researchers, visited the Physics Department and come to the annual Science and Technology Visit Day for sixth-formers interested in studying science at university.
Lancaster's Professor Jim Wild has also visited the school to give a talk about the science of the northern lights.
Morecambe High's pupils have shared their experiences of the trip to CERN, as well as other opportunities they have had over this year with regards to Physics, on a dedicated blog.
"We all enjoyed the great opportunity!" writes blogger Arthur Jones. "Not every day can you say that you have been to CERN!"
Meanwhile, Simon Chapman, Morecambe High's Head of Science, has reported a record number of pupils opting to take physics after attending talks from Lancaster academics.
"It's great to see the work we do with schools having such a positive impact", says Dr Alan Darragh from Lancaster University's Faculty of Science and Technology. "Hopefully we can inspire as many young people as possible to continue with science".
Fri 18 July 2014
---