---
David Morris MP Visits InfoLab21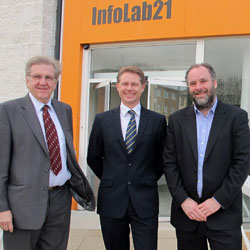 David Morris MP for Morecambe and Lunesdale visited InfoLab21 on Friday 14 January to meet with KBC Director Steve Riches, Director of InfoLab21 Professor David Hutchison and Head of the School of Computing and Communications Professor Nigel Davies.
After discussions, a tour of the departments included the InfoLab21 Graduate Academy and Business Development Team who are helping regional SMEs tap into the academic research from the School of Computing and Communications through ERDF funded projects ISTEP and ISIS.
Mr Morris said;
"I have been very impressed with the work of Mr. Riches and his team at InfoLab21 and I think the key to success in Science and Technology in the UK is research and development such as that led by Professor Nigel Davies and Professor David Hutchison. I have seen some incredible hi-tech research here today."
Wed 26 January 2011
---