---
InfoLab21 Business Support Update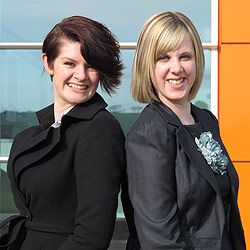 InfoLab21 Strategic Innovation Support Programme (ISIS) Passes a Milestone
100 Northwest SMEs have now completed ISIS projects, helping them develop their business through the use of 'Transformational ICT". The ISIS Programme currently has vacancies available and we are keen to speak to eligible companies about how using ICT can help transform their business.
InfoLab21 Strategic Technology Exploitation Programme (ISTEP)
Offering a range of ways to collaborate with InfoLab21's leading academics ranging from facilitated bespoke consultancy to specialist technical briefings, Brunch Bytes. The project has vacancies for eligible Northwest SMEs (1-249 staff) from the Digital and Creative sector and our Business Relationship Officers would welcome enquiries from interested companies.
Please contact our Business Relationship Officers for further details regarding ISIS, ISTEP or to discuss the other ways in which InfoLab21 can support and collaborate with Northwest SMEs:
Clare Edwards
01524 510466
or
Samantha Winder
01524 510463
Tue 31 May 2011
Associated Links
---