---
Security Lancaster's Dr Daniel Prince provides expertise for The LionHeart Challenge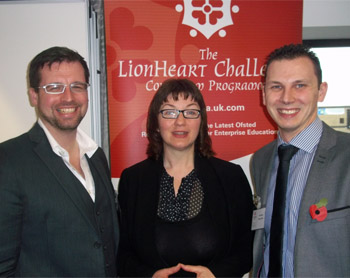 Dr Daniel Prince, Associate Director for Business Partnerships for Security Lancaster, which brings together Lancaster University's research in aviation security, cyber security, security futures, violence and society and investigative expertise, was part of the expert help advisory panel at the national finals of the LionHeart Challenge last month.
The LionHeart Challenge is a nationally acclaimed, inclusive enterprise programme for schools and school pupils. The programme is delivered to schools' entire Year 10 Year Group Cohorts throughout the academic year, culminating in regional finals during the summer term and then a national final event in November. At each stage of the challenge the pupils, aged approximately 14-15yrs, have to work in teams to produce a business plan and a realistic product solution around a challenge theme. Their activities are aided through the advice of experts such as Dr Prince.
This year's LionHeart National Final took place on Friday the 9th November at the Globe Arena, Morecambe. Around 100 school pupils from the winning teams from nine regions of the country came together to compete and impress the judges.
The challenge this year was "to conceptualise, design and create a highly innovative product or device providing a practical and effective solution to any aspect of crime, directly affecting young people, involving the misuse of technology."
Dr Daniel Prince commented "I was really impressed by the enthusiasm and drive of the pupils. The ideas they generated were fantastic; showing real innovation and creativity to address their concerns with regard to cyber-malfeasance. "
The challenge was also attended by Lancaster University's Enterprise Champion Jon Powell who is responsible for coordinating enterprise skill development and entrepreneurship support across Lancaster University.
"I provided hands on advice and guidance to the year 10 finalists of the Lionheart Challenge, an action packed one day competition where students have to use their innovation, creativity and enterprise skills to develop a new product or service. The students experienced the pressure cooker and exciting environment of the entrepreneur and hopefully it opened their eyes to the potential of making things happen for themselves, and that self employment or starting their own businesses is a realistic and achievable goal."
The LionHeart Challenge National Champion School 2012 was Altrincham Grammar School for Girls from Trafford. Their idea was StrongBoX - a CD with an instruction booklet for more information on E-Safety with an unlimited free download of an accompanying smartphone app.
Clare McDonald, Managing Director, The LionHeart Challenge concluded "it was great to have experts from Lancaster University on the advisory panel for The LionHeart Challenge National finals. Having a representative from Security Lancaster provided a unique and hugely inspirational opportunity our pupils to meet and learn from a real expert."
Mon 03 December 2012
---