---
LEC's Catchment Change Network launches top tips 2013 Calendar for reducing water pollution from agriculture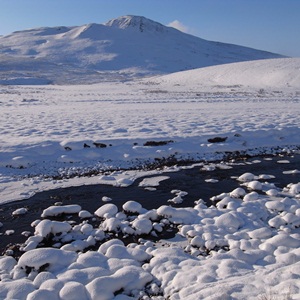 The Catchment Change Network (CCN), led by Lancaster Environment Centre, has worked in partnership with Cumbrian farmers and the Eden Rivers Trust to disseminate top tips about how to reduce water pollution from agriculture through a 2013 calendar.
Water pollution from agriculture is a serious issue. Professor Phil Haygarth explains- "most of our UK land surface is under agriculture and the nutrients, manures and soils can leak into rivers, lakes and estuaries. The effect is the build-up of sediment, undesirable toxic algae and sometimes pathogens."
Presenting the tips as a calendar will help spread the word about agricultural best practice to busy farmers and land managers by providing information written by their peers in a quick, easy to read format. Each month includes a top tip recommending solutions to agricultural diffuse pollution by paying attention to farm infrastructure and the management of soil, livestock, fertiliser and manure. The tips were developed as part of the CNN guidelines on reducing diffuse pollution from agriculture. Each top tip, for example: "Fence off rivers and streams from livestock. This stops animals defecating in streams, erosion of river banks and potential harm to livestock. Fences reduce injuries to livestock and veterinary bills," is accompanied by a quote from a Cumbrian farmer on how they have benefited from implementing the tip "fencing off streams has made our farm easier to manage on a day-to-day basis, whilst helping to improve the quality of the river," Tony Jackson -Dairy Farmer, Newby, Cumbria.
The calendar was compiled by Lancaster Environment Centre's Phil Haygarth, Marion Walker, Eleanor Mackay, Will Cleasby and former LEC intern, Anna Sellars, who commented "I've really appreciated and enjoyed working on Catchment Change Network. It was a pleasure to work on the calendar and it has helped me develop my ability to think creatively in writing and design, and know how to apply these to different types of work."
The 12 photos were taken by Lancaster Environment Centre's Clare Benskin, Keith Beven and Phil Haygarth and are all of local Cumbria scenes.
1000 of the calendars have been printed, half of which will be sent directly to Cumbrian farmers through the Eden Rivers Trust, the rest distributed through the CCN network to partners, such as United Utilities and Northumbrian Water, and catchment management policy makers, such as Defra, The Environment Agency and Catchment Sensitive Farmers. The concept of having a calendar of local scenes and local farmers advising their peers has been well received by advisors in other regions, and the format may be adopted for 2014 in south west England and Northern Ireland.
Will Cleasby, Eden Rivers Trust commented "it was a pleasure to work with Lancaster Environment Centre on this calendar. We hope it will help to show farmers that reducing water pollution is good for business as well as helping to look after our rivers and streams."
There are a limited number available for free on request; you can also download your free calendar here. The top tips and a wealth of information on reducing water pollution from agriculture will be also available next year in the form of an online toolkit.
CCN is a 3 year NERC-funded knowledge exchange network that concluded this November, but the knowledge gained through the network is being expanded and developed as part of the new Catchment Change Management Hub. For more details and to get involved contact the CCN/CCM Hub Facilitator: Marion Walker Tel: +44 (0)1524 510290
Tue 04 December 2012
---