---
First Science and Technology Business Partnerships and Enterprise Annual Report 2011-2012 available to download now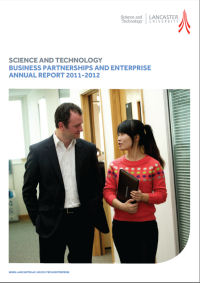 2011-2012 saw the development of a new theme-based strategy for Business Partnerships and Enterprise in Science and Technology. The seven interdisciplinary themes are: Advanced Manufacturing, Energy, Environment, Health and Human Development, Information and Communication Technologies, Quantum Technology and Security. Each theme has dedicated professional staff to work with businesses and source the expertise they need.
The first annual report demonstrates performance over 2011-2012 across the new themes and five ways of working in partnership- collaborative research, co-location facilities for business, commercialisation of intellectual property, student projects and placements and professional training to business and industry, and introduces some of the outstanding staff and businesses who made these achievements possible.
Highlights of the report include a joint collaboration with the Chinese Academy of Sciences, an new research centre Security Lancaster, new method for screening passengers at airports, a new precision cutting technique for examining materials at nanoscale, forming a new spin-out company Lancaster Cryogenics Limited, a major newer partnership with the University of Liverpool and commercialisation company Inventya Limited on the £9.8m Centre for Global Eco-Innovation, hosting Additive Manufacturing Week for the first time, and collaborating with the ICT Knowledge Transfer Network to raise awareness of cyber security issues through our first cyber security conference.
Science and Technology at Lancaster collaborated with over 2250 small and medium enterprises since 2005. The report has been issued to demonstrate the benefits of collaborating with Science and Technology at Lancaster and to encourage more businesses and other organisations to form a partnership with us.
To find out more download the report or contact Becky Gordon, Operations Manager for Business Partnerships and Enterprise, T: +44(0)1524 510188 E: b.gordon@lancaster.ac.uk
Tue 19 February 2013
---