---
Catchment Change Management Hub praised by MP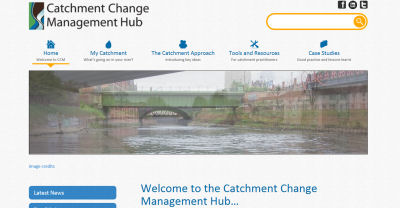 The Catchment Change Management Hub (CCM Hub) has been praised by Richard Benyon MP, Minister for Natural Environment and Fisheries, following a series of events. In a keynote speech at a recent DEFRA conference, he praised the work of Lancaster University and partners, stating that the CCM Hub was "an excellent example of how we can work collaboratively to share good practice."
The CCM Hub (http://ccmhub.net) enables people and companies who are interested in the wellbeing of their local rivers and wider water environment to share understanding and make links across river catchments. "We started this initiative to help people protect and improve our rivers and watercourses," said Dr Marion Walker, CCM Hub Facilitator. "This aim is underpinned by European legislation, but success will not be achieved without many thousands of individuals and businesses taking action for their own river and in their own area."
The hub was launched officially at the Demonstrating Test Catchment 2013 Conference in London on January 21st and 22nd. The conference was well attended by policymakers, delivery agencies, land, water and catchment managers, with over 120 delegates each day accessing the latest research in catchment management.
Following the launch, a Catchment Based Approach Showcase was hosted by Lancaster University and the Institute for Environmental Management and Assessment at the Lancaster Environment Centre (LEC) on January 28th 2013. The event highlighted key issues connected to water and river catchment management and focused on the risks and opportunities facing businesses. Highlights included presentations by Professor Keith Beven and Clare Black, from Cascade Consulting, who talked about the benefits of a Catchment Based Approach. There were also opportunities to learn about strengthening the links between research and business, for example through the newly-formed Centre for Global Eco-Innovation and work-based training schemes available through the Lancaster Environment Centre.
At the final event in London in February 2013, Richard Benyon MP restated the Government's commitment to integrating environmental programmes across the land and water sectors. The conference was attended by a wide range of organisations and concerns, connected through a shared interest in catchment management, including Defra, the Environment Agency, Natural England, Yorkshire Water, The Rivers Trust, Cascade Consulting, Collingwood Environmental Planning, Thames Estuary Partnership, River Nene Regional Park, and Wessex Water.
Commenting on the events, Professor Beven stressed that he was eager to hear from other organisations who would like to become involved, "The (CCM)Hub is ambitious in its aims of providing information for a wide range of users from people interested in their local rivers to national policymakers. Most of all, it is intended to be participatory in allowing users to contribute material and give star ratings to the information that they find most useful."
For more information about the Catchment Change Management Hub contact Dr Marion Walker, Tel: +44 (0)1524 510290, Email: marion.walker@lancaster.ac.uk Twitter:@CatchmentHub
Tue 12 March 2013
---