---
Lancaster helps businesses access funds for Eco-Innovation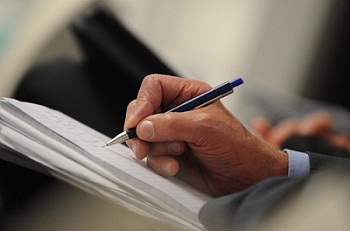 Lancaster University, the Centre for Global Eco-Innovation and the Karim Network hosted an information day and workshop for organisations wishing to access and apply to the Competitiveness and Innovation Framework Programme Eco-Innovation fund and create a product, service or process that has environmental benefits. The workshop, attended by 25 companies, was run by the UK National Contact for Eco-Innovation, Ewa Bloch of the Technology Strategy Board and provided information on eligibility and hints and tips for bid writing success.
This eco-innovation initiative will give up to 50% co-funded grants to finance green ideas. The total budget available for the 2013 call is 31.6 million Euros. This money is to be utilised in reducing our environmental impact and making better use of resources. This means developing products, services and processes that protect the environment, reduce CO2 emissions, use resources efficiently, promote recycling and so on. The five main strands to this initiative are materials recycling, sustainable building products, food and drink sector, water efficiency and greening business.
The deadline for applications is 4pm 5th September 2013.
This support is just one way Lancaster University can support businesses. The Centre for Global Eco-Innovation and the Karim Network are the gateway to further opportunities.
The Centre for Global Eco-Innovation is part funded by the European Regional Development Fund and the aim is to enhance the absorptive capacity of SMEs for research and development. For more information contact Dr. Andy Pickard (a.pickard@lancaster.ac.uk)
The Karim Network is part funded by the European Regional Development Fund; its aim is grow a network of 500 innovation actors from across North West Europe geared to improving industry access to high value transnational technology and innovation support, not available locally. For more information contact Martin Gilmore (m.gilmore@lancaster.ac.uk)
Fri 21 June 2013
---