---
Aurora watching in the UK?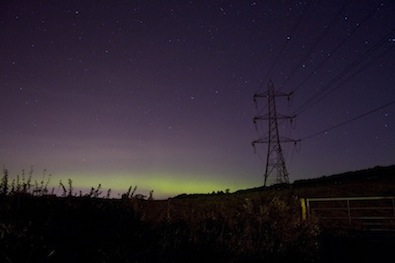 The recent heightened level of solar activity culminated on 7 January with an explosion of billions of tonnes of electrically charged plasma from the Sun, an event known as a Coronal Mass Ejection (CME).
Hurtling towards Earth at about a million miles an hour, this CME was expected to arrive at the Earth's magnetosphere on the morning of 9 January. The impact had the potential to spark a geomagnetic storm of sufficient intensity to bring a display of the aurora borealis, or northern lights, to the skies over the UK.
Coinciding with BBC Two's "Stargazing Live" broadcasts, the possibility of auroral displays over the UK led to the AuroraWatch team in the Department of Physics being inundated with media enquiries and public interest.
The AuroraWatch UK service, which provides members of the public with free alerts when auroral displays are likely to occur, attracted over 5,000 new subscribers in 24 hours, with another 20,000 new users opting to get updates via Facebook and Twitter.
However, the CME slowed down markedly on its journey through interplanetary space and the orientation of the magnetic field within it was not favourable for it to magnetically couple into the Earth's magnetosphere. Consequently, aurorae were not pushed sufficiently far south from their usual location at the edge of the Arctic circle to be seen from the UK.
Professor Farideh Honary, who leads the AuroraWatch UK project, said "This is a perfect demonstration of the challenges space scientists face when forecasting the impact of space weather on our planet. A chain of events need to occur for solar activity to disturb our planet's space environment sufficiently enough for the northern lights to be driven down to the UK from their usual location at the edge of the Arctic. It doesn't happen often and is difficult to predict with any certainty more than an hour or so in advance, but our AuroraWatch alerts can tip the odds in favour of UK aurora hunters."
Media interest included: Sky News, online, The Mirror, online, The Telegraph, online, The Guardian, online, The Independent, online and BBC and LBC radio.
Links
Space Science Research at Lancaster University
Written in the Sky: Aurora borealis uncovered An Institute of Physics film featuring Lancaster Space Scientist Prof. Jim Wild
Fri 10 January 2014
---