---
Business Partnerships Advisory Board reviews new projects for 2014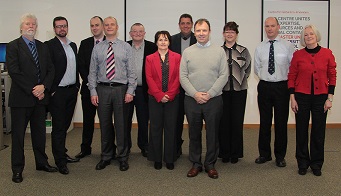 On 6th January the Science and Technology Business Partnerships and Enterprise Small and Medium Enterprise Strategic Advisory Board met to discuss the proposed new projects for Lancashire Economic Partnership investment funds for business engagement activity.
Members of the board
Neil Burns, Director,Croft Filters Limited Risley, Warrington, Cheshire
Dr Kieth Denison, Components Business Stream Technical Manager, Oxley Developments Company Limited, Ulverston, Cumbria
Dr Amiel Farrington, Chief Operating Officer, NanoFlex Limited, Daresbury, Cheshire
Dr Ben Herbert, Director of Research & Environment, Stopford Energy and Environment, Ellesmere Port, Cheshire
David Hill, Technical Director, AmDel Medical Limited,
Liverpool, Merseyside
Dr David Lund, Head of Research & Development, HW Communications Limited, Lancaster, Lancashire
John Walden, Managing Director, InTouch Limited, Morecambe, Lancashire
Paul Wheeler, General Manager, Isoprime Limited, Cheadle Hulme, Cheadle, Cheshire
The group was formed to guide Science and Technology in the progression of its strategy with respect to the development of large scale programmes of business collaboration.
The group first met in July 2012 to review performance over the last two years of Science and Technology business partnerships and enterprise at Lancaster University, and attended the university graduation dinner as a guest of the Vice Chancellor.
Wed 15 January 2014
---