---
A brighter future for cancer diagnosis
Story supplied by LU Press Office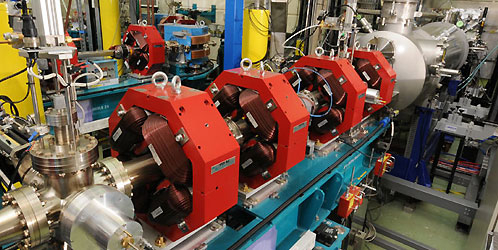 Lancaster University is taking part in a UK research initiative which is bringing significant improvements in the diagnosis, treatment and prognosis of three of the world's most common forms of cancer.
Prostate, cervical and oesophageal cancers can be treated successfully if diagnosed early enough but new techniques are needed to accurately diagnose the three cancer types much earlier than any current conventional tests.
The research is a major project between four leading UK Universities and three NHS hospital trusts, will be carried out at the Science and Technology Facilities Council's (STFC) pioneering ALICE accelerator facility.
ALICE is a light source of unprecedented brilliance and the most powerful source of terahertz light in Europe. Terahertz light has a short frequency ? occupying the middle ground between microwaves and infrared light waves. The instruments on the ALICE accelerator will enable the team to look at cancer cells in a way that has never been done before. This will reveal, in extraordinary detail, the character and chemical processes that underlie the malignant behaviour of these three cancers, which will mean real developments in diagnosis and the development of therapies.
Firstly, researchers will use ALICE to analyze tissue samples and then compare these findings to results using infrared light. Then these findings will be used to develop a new generation of portable and affordable cancer diagnostics instruments.
Funded by the Engineering and Physical Sciences Research Council (EPSRC), the project is led by the University of Liverpool, alongside Cardiff University, Lancaster University and the University of Manchester. They are working closely with the Royal Liverpool and Broadgreen University Hospitals NHS Trust, The Christie NHS Foundation Trust, and the Lancashire Teaching Hospitals NHS Foundation Trust.
The Lancaster team includes: Dr Oleg Kolosov (Physics), Professor David Allsop (Neuroscience), and Professor Francis Martin (Biological Chemistry). Clinical leadership will be provided by Lancaster Hospital - Professor P.L Martin-Hirsch (Gynaeoncology and Obstetrics), Dr H.F. Stringfellow (Pathology). The team will develop a new infrared red instrument for use on ALICE and study cervical cancer and molecules implicated in Alzheimer's disease
Dr Oleg Kolosov said: "During the course of this collaborative project we aim to develop physical imaging and characterization methods fine-tuned to pinpoint cancer remotely in individual cells, therefore creating pathways for early diagnostics and new approaches for drug development."
The University of Liverpool's Professor Peter Weightman, who is leading the research, said: "This research could not be carried out efficiently and cost effectively by a number of smaller research groups. This impressive critical mass of scientists and clinicians has the combined experience and expertise to transform our understanding into the diagnosis and successful treatment of these three cancers. In the longer term, if this study reveals features common to all three cancers our results could be significant in the development of treatments for an even wider range of cancers and other diseases."
Fri 07 February 2014
---