---
Investigating Arctic permafrost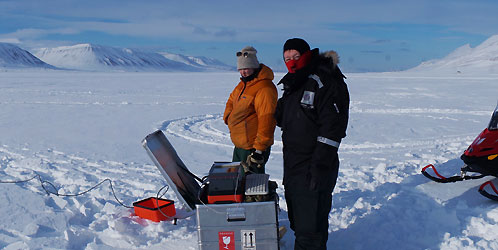 Andrew Binley, Professor in the Lancaster Environment Centre, has just returned from a two week field campaign in Svalbard. The project, funded by the Norwegian Research Council, is exploring the composition of deep permafrost in an Arctic river catchment.
With surface warming the dynamics of Arctic river basins are expected to change rapidly, due to primarily an activation of the groundwater system providing increasing volumes of baseflow to rivers. However, the exact mechanisms for the reactivation of groundwater flow in areas of permafrost are only understood at the conceptual level.
The recent field study explored the use of surface geophysical methods for characterising the permafrost non-invasively. Andy (far right in photo) carried out magnetotelluric soundings, which gives a depth profile of electrical conductivity to depths of up to 1km. These help understand ice composition of deep sediments.
In parallel, colleagues from Rutgers University (USA) carried out surface nuclear magnetic resonance (NMR) soundings in order to assess depth profiles of water content. The Norway/UK/USA project team are now working on trying to use these (and other) data to build up a conceptualisation of the subsurface and its deep hydrology.
Wed 09 April 2014
---