---
Businesses and health organisations exposed to Lancaster's expertise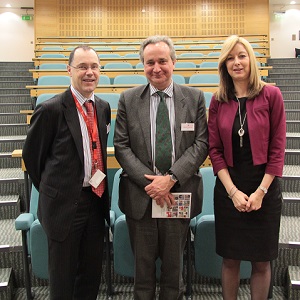 Over 130 people attended the Pathways to Health and Wealth event on Monday 31st March 2014 at Lancaster University. The event brought together expertise from across the faculties of Science and Technology, Health and Medicine, Arts and Social Sciences, and the Management School.
Delegates from across the health sector including local SMEs, large organisations, the NHS, public sector and academics, heard from key note speakers Dr Mark Treherne, CEO, UKTI Life Science Investment Organisation, Dr Liz Mear, Chief Executive, North West Coast Academic Health Science Network, and Professor Mark E. Smith, Vice-Chancellor, Lancaster University.
Networking took place around an exhibition showcasing research and engagement activities across the Faculty of Science and Technology and the university. Academics from the School of Computing and Communications, Psychology, Chemistry, Engineering, the Lancaster Environmental Centre, and Mathematics and Statistics presented research relevant to the health sector. Engagement activities were also presented, including relationships with industry, such as GlaxoSmithKline, Microsoft and Unilever, charities such as Rosemere Cancer Foundation and Epilepsy UK, and NHS trusts and teaching hospitals across the UK.
Becky Gordon, Health and Human Development Theme Lead, commented, "This unique event showcased the huge range of health research and technological expertise within Lancaster University. It was fantastic to see science and technology have such a large presence at the event, showcasing the excellent work done in the area of health and human development."
For more information on health and human development research in the faculty visit www.lancaster.ac.uk/sci-tech/business/themes/health.
Sat 12 April 2014
---