---
Young Functional Analysts' Workshop 2014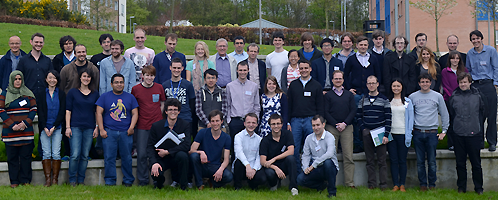 The Young Functional Analysts' Workshop 2014 took place in the Mathematics and Statistics Department at Lancaster University from 23rd-25th April and was a resounding success. The meeting was supported financially by the London Mathematical Society, as well as Lancaster's Science and Technology Graduate School.
The workshop has been running for several years, and is designed to give young researchers in the mathematical field of functional analysis an opportunity to present their work to a sympathetic and like-minded audience, and to learn about new research in the area.
A record number of participants attended: 48 PhD students, Postdoctoral researchers, and early-career academics, from universities in four countries, came to present and discuss the latest developments in functional analysis.
This workshop, the sixth edition of YFAW, also contained the most participant talks of the series. The steady growth, year on year, demonstrates the success of the format; the friendly atmosphere means that many students feel confident to present their work, and the talks given by the invited speakers form the central focus of the conference, around which much fruitful discussion is had.
We were pleased to welcome five invited speakers this year: Dr Alexander Belton (Lancaster University), Dr Madalin Guta (University of Nottingham), Prof. Piotr Koszmider (Polish Academy of Sciences, Warsaw), Prof. Ivan Todorov (Queen's University Belfast), and Dr Andras Zsak (University of Cambridge). Each of them gave accessible, yet challenging talks, which stimulated discussion and provided a centre-point for each session.
The first day began with Dr Belton presenting results on Classical and quantum Markov semigroups, followed by participants continuing the C* algebraic and non-commutative theme. Providing a change in direction, the evening session had a partial differential equation flavour. The day concluded with a conference dinner held at The Borough, a restaurant in the Lancaster city centre.
Our second day had a more probabilistic feel, with intermittent C* algebra-based talks, highlighted by Dr Guta and Prof. Todorov on Local asymptotic normality in classical and quantum statistics, and Group operator systems respectively.
The third and final day was Banach space-themed, with invited talks by Prof. Koszmider The elusive geometry of the Banach space l?/c0, and Dr Zsak Nonlinear methods of approximation.
Tue 13 May 2014
---