---
Engineering building nearing completion
Story supplied by LU Press Office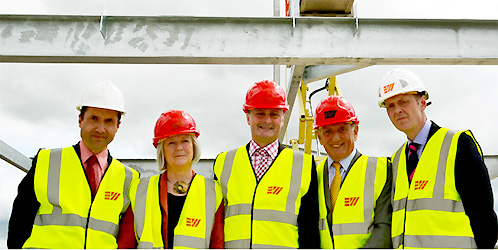 An official 'topping out' ceremony at Lancaster University's new engineering building marks the completion of the structure of the new home for Lancaster's Engineering Department.
The new building will be open for business early next year, providing additional areas for future growth and facilities for specialisms such as nuclear, energy and chemical engineering.
The two-winged development, with a central atrium, will house mechanical workshops and laboratories on the ground floor, electronics and chemical engineering on the first floor with levels three and four providing academic office space, study areas and meeting zones.
Students will benefit from the new inspired working and learning environment kitted out with all the latest, state of the art equipment, workshops and laboratories. Contemporary 'live labs', visible from the outside of the building, are a key feature of the new design.
The department will also comprise extensive chemical engineering facilities, hydropower rigs and nuclear laboratories and high quality research facilities for marine renewable energy, chemical engineering, manufacturing, micro/nano systems and terahertz.
The decision to invest and build the new high profile centre of excellence is set against a backdrop of a thriving global engineering industry.
The university's long established engineering department has grown substantially, in both student and staff numbers and in reputation, in recent years.
The University has supported the engineering department's significant growth in recent years with the recruitment of 20 new academic staff, most with international experience, to cater for the department's 440 students.
Head of the Engineering Department Professor Malcolm Joyce said: "It's wonderful to see the new engineering building take shape and realise its form on campus. It is a great source of excitement and inspiration for staff and students alike."
Wed 18 June 2014
---