---
Lancaster Racing Competes at Silverstone in IMechE Formula Student 2014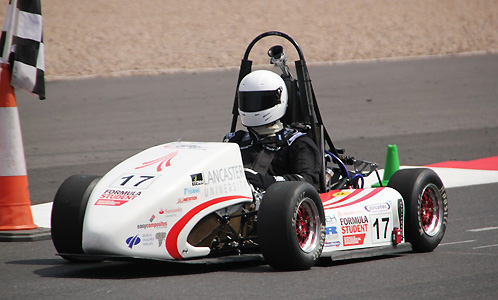 Another year's LancasterRacing team leaves for pastures new having competed against roughly 100 teams at the IMechE Formula Student Event at Silverstone Circuit.
LR14 ran brilliantly, going fast enough for 12th in the skid pad (although a penalty for clipping a cone pushed the team down to 28th) and 24th in the very competitive autocross event.
Sadly, mechanical issues forced LR14 to be retired from the endurance event after 8 blistering laps (LR14 held the fastest lap as she retired).
This year the team finished in 43th position overall, although without a 50 point penalty due to a minor clerical error the team would have placed a creditable 36th against stiff competition.
It has been a big year for LancasterRacing. LR14 was the first car to move away from the 4 cylinder 600cc engines used since LR1 to a much lighter 450cc single cylinder engine. This contributed in no small part to our great performance in the skid pad and autocross events.
The car also moved away from the Lancaster Links suspension system which has served us well in recent years to the more traditional double wishbone configuration to ease packaging on the rear of the car.
LR14 is LancasterRacing's first car to compete with a full underfloor and diffuser which was designed and manufactured in-house from carbon fibre.
LR14 also made use of a rear plate design with eccentric diff tensioner, Drexler diff and an all new pedal box. Expect LR15 to consolidate this year's great design work and iron out the reliability issues ready for competition in 2015.
Everyone at LancasterRacing should be proud of themselves. LR14 is a phenomenal car that was close to a great result.
A big thank you again to all our sponsors (Shermaynes Engineering, Burge Hughes Walsh, Santander, Balltek, JDMotorTech, Glen Tanar, Tsubaki, Easy Composites, AEH Huddlestone, Zircotec, Titan, Racing Batteries, Riccardo and Discount Displays) and our team patron James May. Without your support this would not be possible.
Finally I would like to thank the other supervisors, the technical and administration staff at Lancaster University, the Engineering Department and the University itself for their support for this project.
Dr Chris Lingwood
LancasterRacing Lead Supervisor
Thu 17 July 2014
---