---
Lancaster Seals Pakistan Partnership
Story supplied by LU Press Office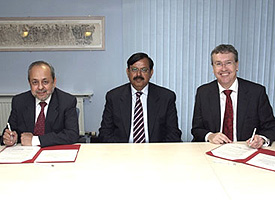 Lancaster University and COMSATS Institute of Information Technology ( CIIT) in Pakistan have cemented their relationship with the signing of a memorandum of understanding attended by one of Pakistan's most senior politicians, the Federal Minister for Science and Technology Ch. Nouraiz Shakoor Khan.
The partnership, the first that CIIT has established with a UK University, will initially focus on Lancaster playing a role in the academic staff development in CIIT , which is set to become the largest university in Pakistan.
Lancaster will provide postgraduate courses in computing, communications systems, physics, engineering and management. The partners will then engage in developing research and teaching links at CIIT's Lahore campus.
During the two day visit to Lancaster University in July, the Minister and the delegation toured campus, attended a dinner hosted by the Vice Chancellor and received presentations from academics in Lancaster's science and technology departments.
The delegation from Pakistan included the Minister, Ch. Nouraiz Shakoor Khan; the Rector of CIIT, Dr Zaidi Junaid; Member of the Higher Education Commission and Director of CIIT Wah campus, Professor Mukhtar Ahmed; the Director of CIIT Lahore campus, Dr Shaukat Ali; head of Electrical Engineering CIIT, Dr Shahid Khan; Associate Professor and head of department of Electrical Engineering CIIT, Dr Hassan Ahmed; Associate Professor HRD, CIIT Islamabad, Dr Qaisar Abbas.
The COMSATS Institute of Information Technology (CIIT) was established in Islamabad in 2000. It has been granted its Charter and will be renamed COMSATS University..
It now has six campuses in Islamabad, Lahore, Wah, Abbottabad, Attock, and Sahiwal, with another being established at Gujrat. Future plans envisage opening of more campuses in the provinces of Sindh and Balochistan, as well as overseas. Once the network of campuses are established, it will be the largest University in Pakistan.
Fri 27 July 2007
Associated Links
---