---
Special Offers on ICT Focus Courses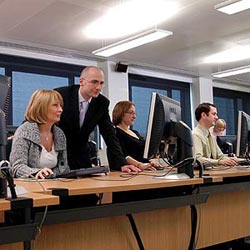 The following special offers are available from the ICT Focus training department at InfoLab21 this month:
20 - 22 November - £405.00 (was £450.00):
MS2543: Core Web Application Technologies with Microsoft Visual Studio 2005
26 - 30 November - £750.00 (was £950.00):
IP Telephony & VoIP
26 - 30 November - £695.00 (was £750.00):
MCDST: MS2261/62: Supporting Users Running the Microsoft Windows XP Operating System/Supporting Users Running Applications on Microsoft Windows XP
MS2261 and MS2262 can be taken as separate courses - please contact us for details.
If you need any information or would like to make a booking - please email ictfocus@lancaster.ac.uk.
Please note this offer cannot be taken in conjunction with any other offer.
Thu 08 November 2007
Associated Links
ICT Focus - An overview of InfoLab21's ICT Training Centre
---