---
University-Business Collaborative Water Science and Innovation Centre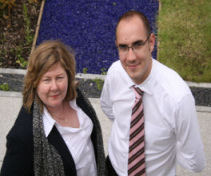 Lancaster, in partnership with the seven other research-intensive universities in the north of England (the N8) has submitted a business case to establish a new collaborative water science and innovation centre with the business community to the Northern Way Initiative.
In September 2007, Jackie Seddon and Ross Dixon (pictured right) were seconded to LEC from Envirolink North West (a business support organisation for the environmental sector) to form the N8 Water Group business development team. This team, working closely with Professor Louise Heathwaite (the academic lead for the N8 water group) and Dr. Mark Bacon (Director of Enterprise and Business Partnerships, LEC) were charged with developing a £2m bid proposing the establishment of a new virtual research centre, which builds on the excellence in water sciences across northern England's universities to drive the innovation & development of new products and services for sustainable water use.
In September 2007 the business development team ran a two day strategy conference with the commercial and public sectors, to establish the research themes for the centre. These themes have been used as the basis for consultation and further contribution from both the commercial and academic communities across the north. The strategy conference was facilitated by Tony Rachwal, former R&D director for Thames water.
The bid, submitted to the managing body for N8 last week (November 30) will now compete for one of two opportunities for funding, alongside four other bids in the areas of regenerative medicine, energy, molecular engineering and aging & health. Critical to the bids success will be its ability to demonstrate how the science base and the commercial sector in the north; can work in partnership to exploit the rapidly expanding global market for water technologies and services. The outcome to the bidding process will be announced in February 2008.
Thu 06 December 2007
---