---
ICT Focus Courses: Coming Soon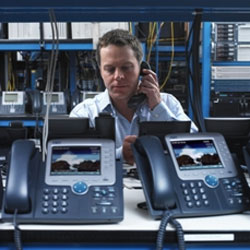 Book now for these upcoming courses available at InfoLab21's training centre, ICT Focus.
IP Telephony and VoIP 12 -16 May 2008 £750
This 5-day course provides network engineers and systems administrators to design and build IP Telephony solutions for the Small Office/Home Office and provides hands-on practical sessions to familiarise yourself with the systems.
Microsoft VISTA (MCITPro) 5118/5119 12- 16 May 2008 £750 (Associate Company discounts available)
Maintaining and Troubleshooting Windows Vista Computers/Supporting the Windows Vista Operating System and Applications.
This instructor-led course provides students with the knowledge and skills to use & successfully maintain and troubleshoot Windows Vista computers.
For further information, please visit the ICT Focus website or call 01524 510425
Mon 10 March 2008
---