---
Lancaster Shortlisted for Contribution to Innovation and Technology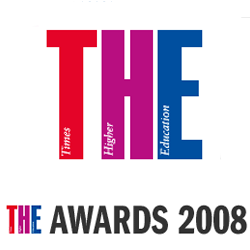 Lancaster University is one of six shortlisted universities in this years Times Higher Education Awards, in recognition of Lancaster Environment Centre's and InfoLab21's business outreach programmes. For the 2008 awards, 130 institutions submitted over 500 entries into 1 of 18 categories.
The judges for this category included Kel Fidler, former vice-chancellor University of Northumbria; Peter Ringrose, board member, Technology Strategy Board and Graeme Armstrong, board member, Technology Strategy Board. The award category is sponsored by Sungard Higher Education consultants.
The winners will be announced at the awards evening at Grosvenor House Hotel, Park Lane, London on 23rd October.
The Award Citation:
2007-8 saw the completion of Lancaster University's second Knowledge Business Centre (KBC) and expansion of a strategy to embed innovation into the heart of its flagship research centres.
The latest KBC opened its doors to new partners this academic year, following its formal opening by the President of the Royal Society, who acknowledged that, "It is splendid that Lancaster University is extending its existing strengths in environmental science. The challenges of the 21st century demand interdisciplinary science, and effective partnerships between academics, public servants, NGOs and private industry."
Its fruition forms the basis to our belief that during 2007-8, Lancaster demonstrated an outstanding contribution to innovation in science and technology via the completion of facilities to enable an unusual, yet evidently effective model of knowledge exchange. We believe that this model has significant merits (supported by HEFCE's business and community interaction survey) to consider its wider adoption.
The concept of the KBC emerged from technology incubation strategies in the US. However, as examined by Lord Sainsbury during his recent visit to both KBCs, unlike the majority of existing incubators, which while often strategically 'close', are in reality somewhat physically remote from cogent research endeavours, Lancaster's two KBCs are embedded within established research centres. Both KBCs provide accommodation to enable collaboration with new commercial ventures, established companies and larger corporate partners, providing a much more diverse community than that found in traditional incubators. The KBC strategy has been made possible by securing significant (>£20 million) investment from the North West Regional Development Agency and the European Regional Development Fund.
We believe that the completion of such 'second generation' incubation and collaboration environments in 2007-8, the KBC strategy provides a rare model for HEI innovation, supported by HEFCE's survey of the sectors business interactions, which records Lancaster as netting £1.5 million in consultancy income from working with SMEs, (the 6th largest amount of income from such activity of any HEI), arising out of 879 collaborations (the 4th highest number of collaborations). In large measure these impressive statistics are the result of our KBC strategy and their student-enabled knowledge exchange programmes.
Since then, over 20 companies now use the new facilities, which together with companies resident in InfoLab21, brings the total number of collaborating companies on campus to over 50. In 2007, 4 new ventures formed and are now working collaboratively in LEC to develop novel waste, agricultural and bio fuel technologies, while established SMEs such a Plant Impact plc (an AIM-listed biotechnology company) and Stopford Projects (a 200-strong chemical engineering company) have created new Lancaster research teams to collaborate on the development of safer agrochemicals and novel technologies to generate energy from waste.
Patricia Hewitt (then Secretary of State for Trade and Industry), commented on the establishment of Lancaster's first KBC that, "This [the KBC] is a very exciting building and a very exciting partnership making Lancaster a leader in the world's knowledge driven economy."
Fri 26 September 2008
---