---
Natural Product Crop Protection Technology Licensed
Story supplied by LU Press Office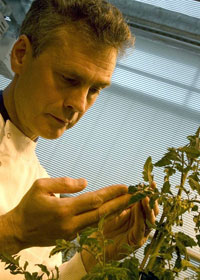 Research by Lancaster University scientists has led to a radical new approach to protecting major food crops from pest attack which could offer farmers around the globe an environmentally sustainable approach to crop protection.
On 8th June Becker Underwood Inc., of Ames, Iowa, and PBL (Plant Bioscience Limited) announced the signing of a commercial license agreement granting Becker Underwood a worldwide exclusive license for the use of a new seed treatment technology developed at Lancaster University.
It was developed by Drs. Nigel Paul, Jason Moore, Michael Roberts, and Jane Taylor from Lancaster University and their collaborator Patricia Croft of Stockbridge Technology Centre. The technology uses a natural plant compound jasmonic acid (JA) as a seed treatment, resulting in long-lasting protection against pests following germination.
The Lancaster team was investigating how wild plants cope with insect and disease attacks but was also working with farmers and growers to find ways of improving sustainable food production.
Dr Moore said: "We started wondering how we might use what we'd learned from wild plants to improve pest control in crops. Treating seed with JA might act rather like immunization, protecting plants for an extended period after treatment: it seemed a bit of a long shot, but we tried and it worked."
The challenge then was finding a way to develop the idea.
Dr Paul said: "With support from HDB-Horticulture and the Natural Environment Research Council (NERC)'s follow-on fund, we were able develop the seed treatment sufficiently to show that it had real potential in crop protection."
Professor Alan Thorpe, Chief Executive of NERC said: "We're pleased our follow-on funding has allowed this research to be developed into a commercially useful technology. This is a casebook example of how we envisaged the scheme would work at the outset."
The development work led to the filing of a patent application on the technology (WO 2008/00710). Then, in 2007, the technology was assigned to PBL, who worked to promote the technology to the international agricultural products industry, including Becker Underwood.
Becker Underwood's decision to develop the technology followed extensive field trials which showed reductions in pest damage and increased crop yields.
Dr. Peter Innes, Becker Underwood chief executive officer, said:"We're delighted to announce this license agreement with PBL and looking forward to the introduction of products utilizing the technology as soon as possible."
The Lancaster team is continuing to develop the technology and the underpinning science.
Dr Mike Roberts said: "The fact that plants seem to 'remember' the JA seed treatment many weeks after germination is an exciting discovery, and we have recently obtained substantial funding from the Biotechnology and Biological Sciences Research Council to investigate it further."
This new research, in collaboration with Rothamsted Research, will look how the seed treatment works to "prime" a plant's natural protective responses so they act more quickly when pests attack, and also how it can be used alongside other natural approaches to pest control.
Dr Paul said: "The seed treatment developed from our laboratory research in to plant ecology, and its been great to see it developed in to a new technology that could really help improve food production around the world."
Tue 09 June 2009
Associated Links
Becker Underwood - speciality bio-agronomic and colorant products
LEC Enterprise and Business Partnerships - Lancaster Environment Centre undertakes a wide range of projects in partnership with business and industry with great value to be gained by access and association to one of the largest centres for environmental research in Europe
---