---
Watch Free Seminars On ICT Security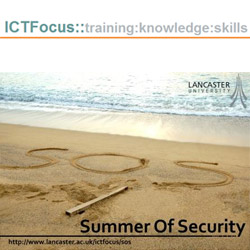 Don't worry if you could not attend the free Summer of Security seminars, you can now watch the webcasts, online.
ICT Focus hosted a day of short seminars to address current security and data governance issues. The day was aimed at all sectors.
The day gave an introduction to the forthcoming courses in the Summer of Security series, more information about these is on the ICT Focus Summer of Securuty website - see link below.
You can view two of the seminars, which have been video-recorded complete with presentation slides, Show Me The Risk and Security Myths and Ethical Hacking from the links below.
Thu 18 June 2009
Associated Links
Watch Free Seminar: Security Myths and Ethical Hacking - Philippe Jan from ICT Foocus explores the hacking lifecycle, raising awareness of threats in order to better protect our infrastructures. (From Summer of Security at ICT Focus, 2009)
Watch Free Seminar: Show Me The Risk! - Dr. Daniel Prince from ICT Focus presents an overview of what is necessary to fully understand the security issues your organisation faces. (From Summer of Security at ICT Focus, 2009)
---