---
Top Lake District business unveils alternative fuel strategy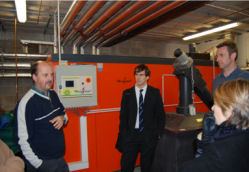 The Langdale Estate is a Hotel and Timeshare Complex located within a 70 acre natural woodland, at the heart of the Lake District National Park.
The Langdale Estate's environmental policy demonstrates the company's commitment to ongoing environmental improvement, and identifies energy consumption as the Hotel's most significant environmental impact. Several of the on-site facilities including a heated swimming pool, sauna, and jacuzzi are energy intensive and contribute significantly to the hotel's energy demand and carbon footprint.
The Management team at Langdale was keen to investigate the feasibility of introducing alternative, renewable energy generation technologies on-site, as a means to address this issue. Biomass energy production was an area of particular interest due to the Estate's location and plentiful supply of wood. Without the necessary expertise in the field of alternative energy provision however, Langdale contacted the LEC for assistance.
LEC arranged for Graduate Consultant and Environmental Scientist, Ciaran Burns, to review the current energy provision at Langdale and to determine the feasibility of switching to alternative forms of on-site energy generation. Ciaran's work took place over a 5-week period, and included a thorough review of the current energy usage and associated costs for Langdale, before a critical investigation into alternative forms of energy generation was made.
Ciaran confirmed the use of biomass to be an economically feasible and attractive alternative to the Estate's current use of LPG, and discounted a range of other alternatives. The report concluded that by installing a biomass burner, the company could save at least £35,000 a year with an associated payback period of less than a year. Manager Nick Lancaster commented: 'Ciaran's work has assisted in providing my board of directors with the confidence to pursue a realistic renewable energy project which will bring long term benefits to our business'.
A second project modelling biodiversity at the estate commenced in Spring 2008. Speaking about the opportunities afforded by the project, Nick Lancaster added: 'Our continuing relationship with LEC is enabling us to explore our business's environmental impact in areas that we would previously have considered unable to examine due to our lack of the appropriate resources'.
For more information about graduate consultancies and how they could help contact David Ainsworth on 01524 510586.
Fri 18 July 2008
---