---
New green business harnesses skills from science and management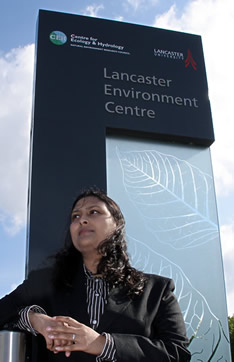 So much hinges on right time, right place. That has certainly been true for the three founder members of an innovative new company - all from India, they met only a few months ago as students at Lancaster University.
Despite all being full-time students, in the space of a few months they had not only formed their own company, Gaea Naturals, and filed for a patent for the underlying technology, they had also been selected to put forward their ideas at one of the world's most prestigious business plan competitions, at Rice University in Houston, Texas.
Full-time MBA students Sonu Bubna and Manoj Krishnapillai met PhD student Shams Qamar Usmani in January this year, not long after Shams arrived at the Lancaster Environment Centre (LEC) on a Commonwealth Scholarship.
A PhD student in Chemistry from Aligarh Muslim University, Shams had already been working for some time on innovative low-energy technologies for treating industrial waste water, with help from his mentors Dr Suhail Sabir and Dr Izhar Farooqi - and had come to Lancaster for a year to study with environmental biologist Dr Kirk Semple.
Entrepreneurial opportunities
Manoj was quick to spot the commercial potential of the work Shams was doing. At 27, Manoj is already a serial entrepreneur: he started his first business while still at college and was also a co-founder of MobMe, a fast-growing Indian mobile media company.
Sonu, who had worked in financial advisory services for KPMG before starting her MBA, needed little encouragement. She is from a family business background and was already on the look-out for opportunities:
'I've always wanted to do something of my own, because I'm a third-generation entrepreneur,' she says. 'I realised early on in the MBA that I wanted to do something different - and I was keen that it should be something "green", which is becoming more and more important.
'The competition at Rice in April provided a great platform for showcasing our business. But it was all very intensive. After being accepted for the competition, we had only eight days to formulate our business plan. We were working 24-hour days, and had seven or eight meetings a day, with lots of different people.
Support and advice
'We got a huge amount of information from the Lancaster Environment Centre because they have researchers specialising in water. They are also providing us with incubation facilities and consultancy, all for free.'
For the competition they co-opted fellow MBA student Juan Carlos Reyes Garcia, who, as a former sales and operations manager for Procter and Gamble, brought to the team considerable marketing expertise.
'Competing at Rice was a valuable opportunity to learn from the judges what the key concerns of real business investors are,' says Juan. 'Being with MBA students from other schools and sharing the same passions and dreams was fantastic. The experience was really encouraging for my entrepreneurial soul.'
Also urging the team on to success and providing much valued advice and mentoring was Dr Frank Cave from the Institute for Entrepreneurship and Enterprise Education (IEED), who teaches the New Venture Challenge module on the MBA.
'It was clear that the ideas they were developing had real potential, and they have demonstrated enormous determination and focus in getting the business off the ground. Getting through to the semi finals of the Rice business plan competition was a very substantial achievement in itself,' says Dr Cave.
'It is especially gratifying that this venture has come about through close co-operation between the Management School and the Lancaster Environment Centre. It shows what can happen when knowledge and skills from these different areas are brought together, and we hope that there will be other such collaborations in future.'
Technologies for the future
The first product to be launched in the Gaea Naturals range is PaperTAG, a fully automated water filter designed specifically for the paper and pulp industries. 'The beauty of our technology,' Manoj explains, 'is that it requires much lower energy consumption than traditional filtration systems, so it helps companies to meet sustainability targets and fulfil their regulatory obligations, at the same time reducing their carbon footprint. It also allows them to save costs on both set-up and maintenance - recycling water through our system reduces waste water treatment costs by about 20 per cent.'
More cost-effective and sustainable methods of water treatment have tremendous value in the paper and pulp industry, says Shams, as for every 100 litres of water needed to produce a tonne of paper, 60 litres will be discharged as waste water for which companies will have to pay for treatment. The UK also has more stringent regulations than many other countries on permitted levels of chemical residue in waste water. But the Gaea technology can potentially be applied to other industries, too - the team is already thinking about possible products for the petrochemicals and pharmaceutical industries and for the food and beverage sector.
Already the team has an agreement in principle from United Utilities, who are looking at incorporating the technology alongside their current systems, and from Northern Tissue Group. 'From the exposure we gained at the Rice competition, we are also in talks with NASA and Dow Chemicals,' Sonu adds. 'The next few months look like being as busy as the last, or even more so - it's very exciting taking the business forward, and with the Management School and LEC behind us, we're confident we will succeed!'
Wed 19 May 2010
Associated Links
Gaea Naturals Ltd - an innovative environmental company providing solutions for industrial waste water recycling
LEC Enterprise and Business Partnerships - Lancaster Environment Centre undertakes a wide range of projects in partnership with business and industry with great value to be gained by access and association to one of the largest centres for environmental research in Europe
---