---
Eye is the key to Alzheimer's Diagnosis
Story supplied by LU Press Office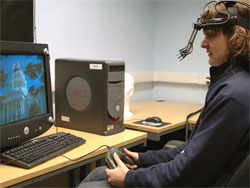 Researchers at Lancaster University and Lytham Hospital have developed new eye-tracking tests that could improve the diagnosis of Alzheimer's disease.
A team led by Dr Trevor Crawford of Lancaster University's Mental Health Research Unit used a computer-controlled invisible infra-red beam to track the movements of the human eye that are normally too fast to be seen.
Dr Crawford said: "Conventional cognitive assessment for Alzheimer's disease can be unreliable because patients are often confused by complex psychological tests or unable concentrate for long periods of time.
"If these new results are confirmed then we will have a brief and relatively inexpensive procedure to help in the early diagnosis of this devastating disease."
Fri 27 May 2005
Associated Links
---