---
Sci-Tech PhD studentships available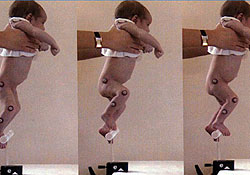 Five Science and Technology departments have recently announced PhD studentships to start in October 2005. These pay both fees and a stipend, and are designed to further boost Lancaster's thriving and expanding research profile. They are open to applicants with a good honours degree or equivalent qualification in a relevant discipline, or a good MSc.
Applicants may apply to carry out PhD research in Communication Systems, Computing, Engineering, Maths and Statistics or Psychology. The primary areas of research focus for these departments are as follows:
Communications Systems: informatics; digital signal processing; ionosphere and radio propagation
Computer Science: networked and distributed systems; mobile and ubiquitous computing; software systems engineering; cooperative and interactive systems
Engineering: instrumentation and sensors; micro/nanosystems; high-power microwaves; composite structures; system safety; renewable energy; mobile robots
Mathematics and Statistics: analysis; operator algebras; stochastic analysis; computational statistics; biostatistics; extremes; genetics; inference in stochastic processes; social statistics
Psychology: infant/child development; cognition; social psychology; conceptual/historical psychology; behavioural neuroscience; applied psychology
Each studentship will pay UK/EU level fees, plus a stipend of at least £8,000 per annum for 3 years. This minimum stipend will be increased from individual departmental funds depending on the department.
A condition of the award of a studentship is that the holder will be required to serve as a Teaching Assistant in their hosting department. This will involve: carrying out a minimum amount of unpaid undergraduate teaching consistent with university guidelines and home office regulations for full-time students; and undertaking teaching-related training according to the University's normal practices.
To apply, first contact the relevant department about department-specific procedures. Then fill in a normal PhD application form (see link below) and indicate on the form that you wish to be considered for a faculty studentship. Attach a written statement to the form that supports your case to be considered for a studentship. The deadline for applications is Monday June 30th 2005. We expect to announce the successful applicants (following possible interview) by Friday July 29th 2005.
For further information about the studentship scheme itself contact the Faculty's Associate Dean for Postgraduate Studies. For department-specific information, please contact the relevant department.
Tue 06 June 2006
---