---
Science and Technology Taster Day a Success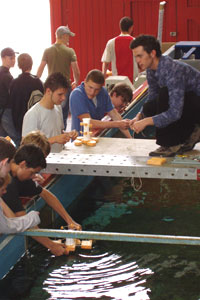 Just under 300 students from 24 schools across the NorthWest took part in the July 1 taster day for science and technology, designed to give them a flavour of real university life and an insight into the breadth of science and technology subjects on offer at Lancaster.
Eight separate departments were involved - Maths, Engineering, Communication Systems, Computing, Biology, Physics, Environmental Science and Geography.
Sessions were organised by each department and there was a good mix of practical work and lectures.
In Engineering students were given a short lecture and demonstration on the fundamentals of floating devices and were then challenged to design and test a floating device which would protect a glass of water in the wave tank during extreme conditions.
Biology, meanwhile, gave a practical session on "the ins and outs of PCR and analysis of DNA" followed by a 30 minute session on "wild birds as vectors for disease and vehicles of pollution" giving students the experience of a university lecture.
After the sessions students over a third of the students opted for a tour around the University campus and accommodation.
The day was extremely successful in achieving its aims of promoting science and technology at Lancaster University. this response is typical of the positive feedback received from schools:
"Quite a few students have indicated that they are now seriously considering coming to Lancaster - they had not realised that they had such a large progressive University effectively on their doorstep".
Schools and colleges can find out about taking part in future Science and Technology events by emailing sci-tech@lancaster.ac.uk.
Sat 08 July 2006
---