---
Campus Communications Leap Into the Future
Story supplied by LU Press Office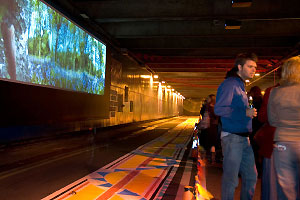 Ubiquitous computing is coming to Lancaster University's campus as part of a £500k SRIF II project e-Campus which aims to test and research ubiquitous computing technology and explore some of its uses.
The e-Campus initiative will create a large-scale experimental facility that provides ubiquitous computing facilities for all staff, students and visitors.
Large plasma screens and other displays such as projectors are being set up in key public spaces around the University along with interaction devices and sensors. These prototypes can be used to display content ranging from art and entertainment to breaking news and other information.
E-Campus is also interactive. People will be able to feed information into the system - for example sending a text from their phone to one of the plasma screens.
The process of designing, building, operating and evaluating such a large-scale ubiquitous computing system is generating new challenges for the research community.
The project, managed by a team from the Computing Department and the Network Research and Special Projects Unit, is currently in a prototyping phase. Example configurations of displays, sensors and interaction tools are being designed, built and evaluated.
Meanwhile, work has already begun with the introduction of art-computing collaboration Metamorphosis, which opened on October 15th, 2005, in a traffic underpass at Lancaster University. It is a creative coupling of technology and art that asks some interesting questions about how we interact with computers. It was put together by Computing Department collective .:thePooch:.- based in the University's ICT research, development and business centre InfoLab21 - along with a group of Cumbrian artists.
The e-Campus will provide a totally unique resource - extending far beyond existing lab-based ubiquitous computing test-beds and enabling researchers at Lancaster to conduct experiments involving a very large user community.
Fri 11 November 2005
Associated Links
---