---
Proteins Help Speed Up Disease Research
Story supplied by LU Press Office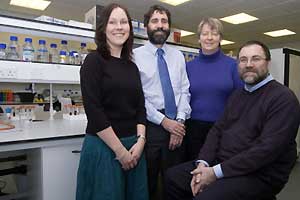 Lancaster University scientists have recently developed a method for making three specialised proteins, which could now be used in research laboratories around the world.
The research team, based in Lancaster University's Biomedical Sciences Unit (Department of Biological Sciences) anticipates that these proteins will help to further their research into the biochemical pathways underlying some common human diseases including Parkinson's disease, Alzheimer's disease and certain forms of cancer.
The researchers, Dr. Jenny King, Dr. Fiona Benson and Professor David Allsop, have now entered into a commercial arrangement with Sigma-Aldrich, a leading USA-based international Life Science and High Technology company, who will now sell the proteins worldwide. The researchers and Lancaster University will share a royalty on each sale.
Another three proteins produced by Lancaster University are now undergoing quality assessment trials and are expected to enter the Sigma-Aldrich catalogue during 2006.
Prof. David Allsop said: "These proteins have only been discovered fairly recently, and their commercialization will now help to speed up research into the causes of some very important human diseases."
Fri 27 January 2006
---