---
National Science Week Events
Story supplied by LU Press Office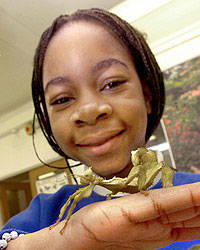 Lancaster University will be buzzing with primary school children this month as they learn more about minibeasts and flowering plants in an event to mark National Science week. Around 350 children are expected to attend the event which will be held from Tuesday, March 28 to Thursday, March 30 in laboratories at the University.
Children from a host of schools in Lancashire will take part in hands-on activities with creatures such as millipedes, snails, grasshoppers and stick insects.
They will dissect flowering plants and learn more about life cycles, food webs and pollination. Pupils will also get the chance to examine a snail's tongue, a bed bug and a flower with the help of microscopes linked up to televisions.
The event, organised by Drs Christine Taylor and Alan Shirras of Biological Sciences, has been made possible by a £1,967 award made by the Research Councils UK to mark National Science week (10-19 March). The project has also received financial support from the Lancaster Environment Centre.
Undergraduate and postgraduate students, academic, technical and research staff will be involved in presenting the workshops. Scientists at Lancaster University hope the workshops will give younger pupils an inspiring new look at the world of science and encourage them to take an interest in the subject in the future.
Dr Christine Taylor said: "We are very fortunate to have received funding, for the third year running, to organise this event. This is an exciting opportunity to provide support for science education in the local community and to inspire the scientists of tomorrow."
Meanwhile, Lancaster University Physics Department is taking part in a series of Fun Science in Cumbria workshops organized by the British Association for the Advancement of Science. The events will run on March 20 and 21 at Kendal Parish Hall and on March 22 and 23 at the Ulverston Red Rose Club.
Thu 16 March 2006
Associated Links
Biological Sciences - Department of Biological Sciences home page
The BA - The British Association for the Advancement of Science
---