---
Student wins British Council Award
Story supplied by LU Press Office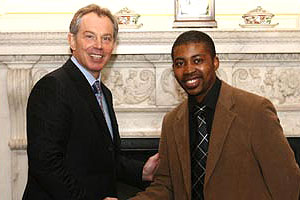 The inspirational story of Lancaster University student Akanimo Odon has earned the 26-year-old Nigerian the title of International Student of the Year 2006 in the British Council's annual 'Shine' International Student Awards.
Akanimo, who is working towards a PhD in the Environmental Science Department on a pioneering study into the effects of pesticides on soil functions, came through a series of judging rounds to claim the overall title.
Meanwhile, on Tuesday, April 18, Akanimo also met the Prime Minister, Tony Blair, at a high-profile event at Number 10 Downing Street where the UK Government launched a new international education strategy.
Now in its fourth year, the awards' scheme - designed to celebrate the non-academic achievements of international students studying in the UK - attracted entries from students studying at universities, colleges of further and higher education, schools and English language institutions. In total, more than 2,000 entries were received from students originating from 125 counties.
Akanimo, who comes from the Ika local government area of Akwa-Ibom state, received a £2,000 prize and commemorative trophy at a ceremony in London. He had previously been named the North West's International Student of the Year, and lined up in the final alongside 11 other regional winners from across the UK.
To enter, each student was asked to write a personal 'letter home' - as if to a relative, a former teacher or mentor, or maybe someone they know who is thinking about studying in another country - describing life as a student in the UK, focusing on how their experiences and newly-acquired skills have enhanced their personal development and helped them achieve their ambitions.
Akanimo's letter revealed an eclectic range of interests - all developed during his time in the UK. He moved to Lancaster after completing a Master's in Environmental Rehabilitation at the University of Wales, Aberystwyth and hopes to build on his current studies to open environmental laboratories in Nigeria in future.
He has worked both part-time and as a volunteer at several care homes - including the Mayfair Residential Home in Lancaster - and has achieved a number of related qualifications. He said in his letter: "I am looking to start up or push for the establishment of these sorts of homes when I finally return to Nigeria after my studies. There is no more amazing feeling as being able to lend a helping hand to someone in need."
Akanimo's diverse range of non-academic activity has extended to creative writing. A first book of poetry 'Rhymes from the Heart' has been published and he has just finished writing his first novel. He has also registered for a course on scriptwriting for film.
He is a postgraduate ambassador for Lancaster University, becoming involved with recruitment campaigns, open days and giving advice to other postgraduate students on campus.
Professor Harry Pinkerton, Head of Environmental Science at Lancaster University, said: "Akanimo has made a major contribution to the department, the university and the local community since he arrived at Lancaster. He manages to sustain a very dynamic research career during the day and still has the energy to help in residential care homes in the evening. We are amazed that he has achieved so much in a short period of time and we are all very proud of his success. He is an outstanding ambassador for the university."
The Rt Hon Lord Neil Kinnock, Chair of the British Council, said: "The International Student Awards provide the chance for students who are making the most of their time in the UK to offer their perceptions and illuminate understanding of what they are, what they want to be, and - very important - what they think of their host country."
"With scores of inspiring accounts of how life in the UK is contributing to the success of so many talented people from all over the world, the judges' task was difficult. But Akanimo, is truly exceptional. He has striven relentlessly to fulfil his ambitions to study and to develop his wider potential in the UK, and we are delighted that his efforts have been recognised and rewarded in such a spectacular way."
Mon 24 April 2006
---