---
Forgotten Tomato Heading for Home
Story supplied by LU Press Office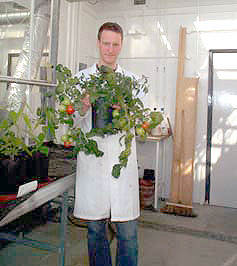 A Lancaster Environment Centre researcher is on a mission to return a forgotten tomato variety to its native homeland. The 'Manx Marvel' is a tomato variety thought to have originally been bred on the Isle of Man but has now all but vanished.
Dr Russell Sharp, a plant scientist at LEC, wants to revive the variety following a similar success with a lost Leicestershire tomato variety,The Blaby Special, in 2006. The Blaby Special ceased to be cultivated in Leicestershire after World War II but is now being grown across the county after Dr Sharp appealed for help from the public. He was inundated with responses with more than 900 people requesting seeds.
Last summer Dr Sharp obtained seeds of the Manx Marvel variety from a 'seed bank' in the United States and grew a successful crop of four plants in Lancaster.
He said: "There is now increased awareness of the need for genetic diversity in crops and the benefits of sourcing fruit and vegetables from local sources. To my knowledge the Manx Marvel is not currently cultivated on the island, however with the help of local people I hope to get this variety growing again in Manx soil."
Thu 04 January 2007
---