---
Faculty VIP Day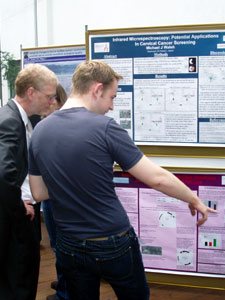 As part of the graduation day ceremonies on 19th July, the faculty hosted an event designed to showcase its work to regional schools, colleges and industry and offer an opportunity for guests to meet staff and students.
Postgraduate students provided an informative and colourful poster display in the Atrium of the LEC building and guests were then taken on a tour of the Engineering Department and Biological Sciences Department. The tours provided guests with a first hand opportunity to see some of the work undertaken by students, including a project to design and build a race car from 'ground up' and the development of a neutron spectrometer to measure the levels of neutron spectra in the nuclear industry.
The event was a success and guests appreciated seeing practical applications resulting from research projects and valued the day as an opportunity for networking with staff and other contacts from the region.
Fri 20 July 2007
---