---
Green Business Winners move into Environment Centre
Story supplied by LU Press Office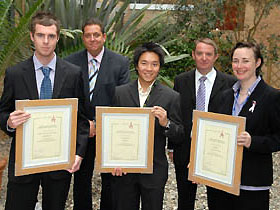 Three growing businesses are set to move into Lancaster University's Environment Centre (LEC) after winning a competition to find fresh business ideas with an environmental focus.
LEC launched the 2007 Business Creation Competition earlier this year calling for creative, realistic, environmentally-focused business ideas with the potential to improve the planet.
Winners will receive a host of prizes and unique opportunities including 12 months' free incubation support and accommodation in The Gordon Manley Building, the new business extension to LEC, which is one of the largest environmental research centres in Europe.
The winners are:
Kenneth Cheung, 22, from Liverpool, who will produce liquid organic fertilizers by recycling food wastes. He will also develop a biological method of eliminating odour problems from domestic refuse bins. Kenneth, a biochemistry graduate from York University, said: "I am really pleased and excited that I have been chosen as a winner of this competition. There are great facilities and help in the Lancaster Environment Centre. This is definitely a big opportunity to help establish my business and a step closer for me to changing the world for the better."
Eddie Sammon, 19, and Andrew Glover, 21, Lancaster, who are establishing Ethical Fuels Ltd - a bio-fuel feedstock manufacturing and trading business, wishing to produce the necessary oils required for bio-fuel production sustainably from algae. Algae can produce significantly more oil per hectare than traditional "fuel crops". Eddie is in the 2nd year of his Business Studies degree in the University's Management School, while Andrew graduated from the same course this summer. Eddie said: "Becoming one of the winners from this competition will provide us with a working environment where we can work along side LEC's researchers, to help us progress with our plans."
Becky Toal, 34, from Chorley, will launch Crowberry Consulting Ltd - an environment, ethics and corporate social responsibility management consultancy. Becky said: "Winning this competition will enable my business to grow, develop and offer bespoke services and solutions for clients in the area of environmental management, business ethics and social responsibility. LEC has excellent facilities and networks to help young start-up companies to thrive in the sustainability and environmental technology sector. I am thrilled to have my business chosen for this award, and look forward to a productive working relationship."
Dr Chris Holroyd of LEC Enterprise and Business Partnerships Team said: "We were extremely impressed with the variety of excellent green business ideas being developed in the region. We are now looking forward to working closely with these winning businesses to ensure they maximise their potential, benefiting the North West economy and making a positive contribution to the environment."
The Northwest Regional Development Agency (NWDA) part-funded the Gordon Manley Building.
Mark Hughes, Executive Director of Enterprise and Skills at the NWDA, said: "The winning entrants produced innovative environmentally-led business ideas which will complement LEC's position as a beacon for innovation, teaching and research in the environmental sciences. These businesses are capable of enjoying great success and will benefit from working with the university while in turn supporting the LEC to stimulate economic regeneration locally and regionally in the Northwest."
Fri 09 November 2007
Associated Links
Lancaster Environment Centre - Innovation, training and research for a sustainable future
LEC Enterprise and Business Partnerships - Lancaster Environment Centre undertakes a wide range of projects in partnership with business and industry with great value to be gained by access and association to one of the largest centres for environmental research in Europe
---