---
New LEC staff to work in partnership with The REACH Centre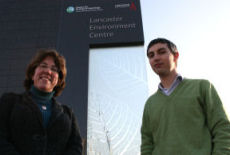 In December 2007, Dr Pamela Harbron joined the Centre for Chemicals Management to manage the development of a range of training courses on chemicals regulation management including REACH regulation. The courses will be aimed at NW and UK companies initially and the intention is that courses will ultimately be accessed internationally, especially by non EU companies.
Pamela completed a PhD in colloid chemistry at Bristol University and has spent most of her career in the chemical industry. She has also worked at the North West Development Agency as Science Manager and most recently as a Business Manager at Manchester University.
This month Matteo Dalla Valle has joined the Centre for Chemicals Management to work in close connection with the Reach Centre. Matteo took his PhD in Environmental Science here in Lancaster in 2004 and since then he has worked in Venice (Italy) at the Venice Research Consortium, dealing with atmospheric pollution, climate change and the modelling of organic pollutants.
Now he will provide technical assistance to the North West industries in complying to their obligations towards the new EU regulations on chemicals policy (I.e. the REACH Directive) and will help the University finding new research opportunities in this field.
Thu 21 February 2008
---