---
Royal Society Training for Lancaster Scientists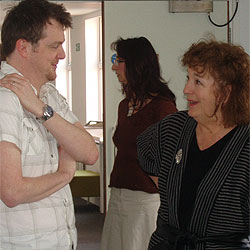 The Faculty of Science and Technology has run a communication skills training session for scientists in collaboration with the royal society.
The highly successful one-day course was the first bespoke session the Society has delivered in a university.
The course is designed exclusively for scientists and was delivered by Judith Hann ( science writer and journalist, and ex presenter for BBC Tomorrow's World) and John Exelby ( who was a senior executive in BBC TV news).
Academic staff from across the faculty participated in a highly interactive programme designed to develop their skills in communicating with a variety of audiences. A further session focusing on skills for radio/TV and using a professional film crew is already fully-subscribed.
Dr Alex Belton, Lecturer in Maths and Statistics said: "I found the session extremely worthwhile. The facilitators provided an excellent environment, stimulated discussion and made many useful points, showing a great understanding of the media and its relationship to science."
Wed 16 April 2008
Associated Links
---