---
Christmas Conference 2008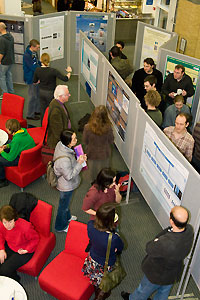 The 2008 Science and Technology Christmas Conference built on the success of the three previous events, with commentators claiming it was the best yet!
This year saw a change of venue to the Management School building and all sessions of the conference were well attended.
Thanks go to our departmental speakers, as well as PhD students and contract researchers who contributed posters.
The conference included high profile speaker Dr Peter Cotgreave, Director of Public Affairs at the Royal Society. His message to scientists was to engage with politics and the media if they want to emphasise the significance of their science and make a difference to scientific policy.
He outlined a range of ways in which scientists individually and collectively can influence public debate.
The largest number of posters to date were displayed with 60 packing out the Hub area for the Grad School poster session.
Posters were displayed from all departments in the faculty and many academics remarked on the high calibre of the work shown.
Congratulations go to poster competition prize winners Rose Lerner and Carolyn Matthews of the Physics Department, and Edward Bell from Computing.
Tue 16 December 2008
---