---
New Funding for Space Research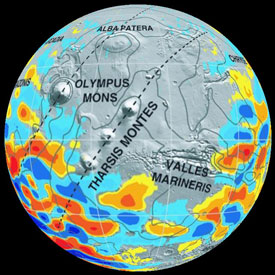 The Space Plasma Environment and Radio Science Group has recently received over £900k of new funding in three grants awarded by the Science and Technology Facilities Council to support research at Lancaster University over a three year period.
Dr Mick Denton was awarded £288K to support "Acceleration and Loss Processes at Relativistic Energies: Sources and Sinks of Radiation Belt Plasma", a project investigating plasma physics in near-Earth space in preparation for the launch of NASA's "Radiation Belts Storm Probe" mission to the Earth's Van Allen radiation belts in 2012.
Dr Jim Wild was awarded £294k in order to support a programme of research entitled "Investigating the Influence of Open Crustal Magnetic Field Regions on the Martian Ionosphere".
This project will model the physical interaction between the Martian ionosphere and the interplanetary environment.
The results will have implications for Martian atmospheric physics (both past and present), planetary exobiology and the potential technologies for future Mars exploration missions.
Professor Mike Kosch was awarded £321k to support "Artificial Auroras: The energy spectrum of accelerated electrons from wave-particle interactions", an investigation of how radio wave interactions with magnetised space plasmas accelerates electrons to high energies.
A unique feature is that the experiment is performed in the natural atmosphere using the EISCAT high-power radar facility and in so doing produces artificial auroras.
Prof. Kosch will be talking about his research into artificial aurora in an edition of the BBC's long-running "Sky at Night" programme, to be broadcast on 1st February (with repeats on 2nd and 7th).
Mon 19 January 2009
---