---
Innovation buzz gets louder at Lancaster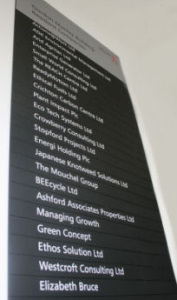 There are now twenty three commercial companies operating from Lancaster Environment Centre's business facilities which opened in May 2007. Locating in the centre is enabling the resident companies to engage in cutting edge research with LEC's technical staff.
For example, Ashford Associates has developed novel ground stabilisation technology for contaminated land sites and Plant Impact plc is researching the mechanisms by which certain chemical compounds regulate plant and crop development.
The resident companies all offer environmental products and services in the energy, environmental clean-up (including contaminated land remediation and invasive species management), water, chemicals, climate change and corporate responsibility industries.
The companies range from new venture BeeCycle Limited which markets bacteria for management of putrescible domestic waste, to global consultancy Mouchel Parkman plc.
A full list of the companies based at LEC, and their technical interests, can be found on our resident companies page.
Find out more about the new fully furnished offices and how your company could benefit from using them.
Fri 18 July 2008
---