---
Graduate Consultant helps paper company implement environmental policy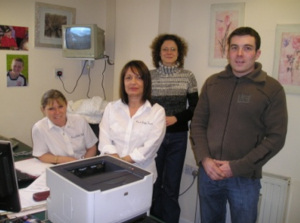 Roach Bridge Tissues is a small Preston based company specialising in the printing, converting and supply of a wide range of recycled tissue papers. The company is committed to using sound environmental practices throughout and is keen to demonstrate the sustainable advantages of its own products, whilst also promoting good practice to its customers and suppliers.
Roach Bridge, however, did not have any formal means of verifying its efforts publically. LEC graduate James Bennett embarked on a short 5 week consultancy project investigating the options available to the company, and made a series of recommendations for the most appropriate course of action based upon the company's products, markets and stakeholders.
As a result of the project, the company was able to verify and promote the environmental credentials portrayed in its products. The work also helped the company to develop its own environmental policy, and now continues to work towards sound environmental practices throughout its operations.
Company Finance Director, Camilla Hadcock, was delighted with the report provided through the programme stating 'it will be a valuable tool which will enable us to highlight our environment standards to our customers and to improve practices where possible. Over time we expect this will result in sustainable growth.'
Fri 01 May 2009
---