---
Lancaster's African armyworm project in the news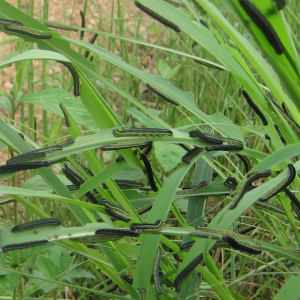 A research project funded by the BBSRC and the Department for International Development features on a major new website on Food Security produced by the BBSRC.
The £700K research project led by Dr Ken Wilson from the Lancaster Environment Centre is exploring the potential for using a virus as a novel biological control agent against an infamous crop pest, the African armyworm, an inch-long caterpillar that eats staple crops such as maize, wheat, sorghum and millet, as well as pasture grasses.
An update on the progress of the research features on the Research In Action section of the new website. Dr Wilson and his research also recently featured on the news pages of the science magazine Nature.
There has been more success for the African armyworm project - it has just been announced that the research consortium has secured additional new funding from DFID's Research Into Use programme, worth around half a million pounds.
The new project, led by CABI Africa and involving partners in Tanzania, University of Greenwich and Lancaster University, aims to develop safe and affordable armyworm control for resource-poor farmers in East Africa. For further information on armyworms and their biological control visit: www.lancs.ac.uk/staff/wilsonk4/ARMYWEB/ARMYWEB.html.
Tue 19 January 2010
---