---
STOR-i welcomes summer research interns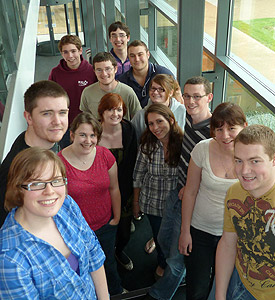 The STOR-i Doctoral Training Centre recently welcomed its first intake of research interns.
As part of its mission STOR-i offers an opportunity for UK undergraduates to undertake 8-week research internships.
The internships have been developed to give motivated students an opportunity to gain an experience of research alongside like-minded peers.
The internships also allow students to develop their team working and problem solving skills through a variety of activities including collaborative group work and a problem solving day.
This year's interns have joined STOR-i from Universities across the UK including Birmingham, Edinburgh, Manchester, Oxford, and Lancaster.
They will each complete research projects with the support and supervision of academic staff and research students from the Department of Mathematics and Statistics and the Department of Management Science.
For more information about STOR-i and the internships, please visit the STOR-i website.
Thu 29 July 2010
---