---
Space scientist in First Women Awards 2011
Story supplied by LU Press Office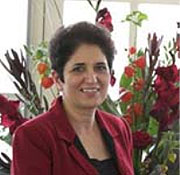 Professor Farideh Honary from the Department of Physics is on the shortlist of the 2011 First Women Awards, which highlight women who are breaking new ground across a range of industries.
Currently Professor of Space Plasma Environment and Radio Science and Vice President of the Royal Astronomical Society, she is cited in the award category of Science and Technology for her "exceptional career".
Born in Iran, she came to the UK with a young family to study for her Phd in 1978, just before the Iranian revolution.
She took up a lectureship in the Engineering department at Lancaster University in 1994, the first female academic appointed to that department, and established the Space Plasma Environment And Radio Science (SPEARS) research group.
Her international leadership in this field has resulted in several research awards from the UK Research Councils, the EU, the Indian Institute of Geomagnetism, and the Polar Research Institute of China. She leads the Global Riometer Array (GLORIA) consortium which involves space scientists from 13 countries.
Being passionate about space physics, Professor Honary would like to see greater opportunities for members of the public to become interested in science, and she and her research group are engaged in many outreach activities.
One such initiative is the hugely-popular AuroraWatch, a direct spinoff of her research which now has over 40,000 subscribers. This is a free public outreach service which alerts subscribers by e-mail or SMS when the likelihood of aurorae appearing over the UK is high.
She is also very keen to encourage women's involvement in science and is the chair and coordinator of the Athena SWAN Charter for Women in Science at Lancaster University.
Over the past six years First Women awards have been presented to Specsavers founder Dame Mary Perkins DBE, fashion designer Nicole Farhi CBE, and Baroness Hogg, the then only female chairman of a FTSE 100 business.
The awards ceremony will take place on June 30 in London.
Mon 06 June 2011
---