---
Aurora Explorers
Story supplied by LU Press Office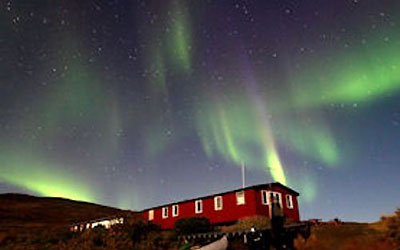 Physicists from Lancaster University showcased their research before thousands of visitors at the flagship Royal Society Summer Science Exhibition.
The Exhibition showcases the best in UK research before the public and VIP guests including senior policymakers. Last year there were 9,000 visitors from all over the world.
Dr Jim Wild, Dr Andrew Kavanagh, Dr Emma Woodfield and PhD student Nathan Case, all from the Department of Physics, have joined colleagues from University College London, Imperial College, the University of Leicester and the Rutherford Appleton Laboratory to staff their exhibit.
Dr Wild said: "It's an excellent opportunity to display research in a high profile setting before everyone from schoolchildren to MPs. We'll be answering questions on the stand and showing people how fascinating science can be."
The exhibit called Aurora Explorer is one of only 22 chosen from over a hundred applications. It is based on the scientists' research into the Northern Lights or Aurora Borealis, a dazzling display of coloured lights produced at high latitudes where a magnetic field called the magnetosphere meets the atmosphere.
The Aurora Explorer exhibition will show beautiful movies of the Northern Lights seen from the ground, and will feature a spherical projection screen, representing the Earth, onto which scientists will show real images of the aurora taken from space. Visitors will also be able to see a practical demonstration of how electrons which are accelerated into very thin air can produce auroral light.
Cluster is a major European Space Agency mission that carries several UK‐led instruments which have been exploring how the enigmatic Northern lights are created.
The exhibition will also give people the opportunity to get up close to real sensors that are identical to those onboard the Cluster satellites, and chat to the scientists and engineers who made them and who operate them.
The visit by the Lancaster physicists to the Exhibition has been funded with £3,000 from the University's Friends Programme.
Thu 07 July 2011
---